Explore Molokai -- Natural Hawaii -- in comfort and with much ALOHA!

End of Whale Watching Blow-out Sale!! Whale Watching ends around March 31...any group of 6 will receive 20% off while groups of 5 receive 10% off until the end of the season. See the Whales and Save!!! We ensure you see whales! We are also offering a combo trip of Whale Watching and Snorkeling for 3 hours at $105 per person (minimum 2 people).

We are a small family owned & operated local business offering cultural-driven tours. You can have an intimate experience with us as we talk story about life on Molokai. Kimo, son of Joyce Kaino'a, who grew up on the North Shore of Molokai, will answer all your questions and talk about local traditions. You will experience no large crowds as only 6 people per tour and no metal hard seats, only a soft leather seating area for easy conversation. You can also ride on the front the catamaran. Join us in Whale Watching, or have fun SNUBA and Snorkeling on the Island of Molokai. You can go Spearfishing or Torch Lantern Fishing (one of the favorite activities, using nets) and cook what you catch (Kimo can tell you how to cook the fish) or we can have a cook-out at the Wharf. You can help us eradicate the ROI fish and protect our reefs when you spearfish as we continually strive to protect the Hawaiian waters.

Climb aboard the Manu Ele'ele, the Black Bird at Kaunakakai Wharf in Slip 13 (far left corner of parking lot, the big black catamaran). The boat is a 40' foot Power Catamaran; the only one on Molokai. We only take a maximum of 6 people per tour so you will experience a small intimate group on our soft leather u-shaped seating which feels like your own sofa. This vessel is powered by 2013 F200 Yamaha engines that are ecology friendly, with 65% lower emissions. They are rated as three star, ultra low emissions. We are a coast guard inspected and approved vessel with a drug-free boat and crew. Molokai Ocean Tours is part of the Maritime Consortium ensuring full compliance by the Captain and Crew.

Join us as we search for Humpback Whales. These magnificent mammals come to the Hawaiian Islands from December through April, migrating from Alaska, they mate and calve here. You may also spot the beautiful Spinner Dolphins and Green Sea Turtles! This is your our opportunity to ride the ocean waves in the Kaiwi and Kalohi Channels. You will have an excellent view from your comfortable leather seats watching the whale's blowing, breaching, tail slapping, singing and tending their young-----right before your eyes.

Try out the only 'Hookah Max' on Molokai. Hookah Max, same as SNUBA, enables 2 people to dive 30 feet simultaneously without tanks or certification. You use a snorkeling mask with a mouthpiece connected to a long hose. We even have masks for those who have mustaches! We have the largest fringing reefs in the U.S. located right here off the south coast of Molokai and we will take you there! Explore the crystal blue water; you can see the ocean bottom and view our reefs up close. You can go down to 30 feet or you can snorkel and view the sea creatures living among our reefs. Reef snorkeling in the ocean can not be compared to snorkeling in water you can walk to from the beach. Reef snorkeling is more beautiful!

Learn how to Spearfish using 3-prong spears (we provide the spears) taught by your guide, Kimo, who grew up on the backside of Molokai. Kimo has been diving and spearfishing his entire life. You can help him eradicate the invasive Roi fish that is impacting our reefs and we guarantee there will be fish for your dinner when you spearfish with us.

You can also have fun with the family when you participate in our Torch Lantern Fishing at night under the stars! We will furnish tubbies, headlamps and nets so you can walk and catch the night creatures which may include octopus, squid, crabs, shrimp, and eels -- then take them back to your place and cook them or just release them back in the ocean.. Kimo can identify all that you catch and will gladly tell you how you can cook them. Hotel Molokai has an outdoor grill the guest may use for cooking.

Ocean Tours include soda, juice & water. You are always welcome to BYOB. Tours average $75 per person (children 12 & under $60 with 2 adults) while Torch Fishing is $30 per person and Spearfishing is $125 per person. Select TOURS to see what is available that may fit your needs.

We also offer a Rain Forest Drive and Cultural Hike. We will take you to the rain forest (requires 4-wheel drive) with a cultural-provided hike on the boardwalk through the Kamakou Preserve on the slopes Kamakou, which is the island's highest mountain, this is Molokai the way Mother Nature intended!

Unfortunately, we do not go to Kalaupapa or the Northern Sea Cliffs.

Aloha and Mahalo!!

Enjoy your stay on Molokai
All pictures posted are taken off Molokai.
TULA locally-crafted jewelry by two sisters are available too!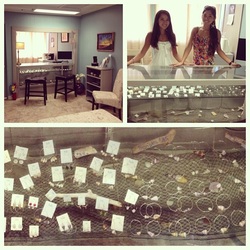 Visit our store at 40 Ala Malama Street, Suite 202, Kaunakakai, HI or call us at 808-553-3290. Our store offers all our tours;
TULA
jewelry, which is locally made by our granddaughters using Hawaiian Shells; and our Outdoor Rentals. Our Outdoor Rentals offer:
Beach Chairs, Umbrellas, Coolers, Floatation Devices, Snorkel Gear, View Boards, Beach Footwear, HD Video Mask, Boogie Boards, Soft Top Long Boards, Recreational Beach Games, Na Mea Molokaʻi Souvenirs, and a Moloka
ʻi Island Specialist.
---
Last updated by N. Poland on 2/4/14